Almost everyone in the restaurant industry asks themselves, at some time, whether they should provide leads or require their salespeople to find their own "new restaurant openings" prospects. It's time to realize that the days of salespeople generating all the leads they need is over. Most salespeople have a hard time finding enough leads to make a good living. Companies who "provide all leads" enjoy predictable revenues, are more profitable, and recruit better talent. Here's why.
More Successful Recruiting
Companies who can advertise that they "provide all leads" are more successful in attracting successful sales team prospects. If you were being interviewed today by two companies and one provided all leads but the other didn't, which job would you favor? Most salespeople choose the leads. You will be able to attract more and better quality salespeople if you provide your team prospects. So, if you struggle to recruit and retain high-quality salespeople, providing leads may ease your problem.
Predictable Revenue
I am sure you will agree in the restaurant industry, keeping the sales pipeline full of new restaurant opening opportunities is what separates success from failure. Generating the leads for your team eliminates the "Cycle Of Doom". This is a frustrating cycle where week #1 the salesperson generates leads and appointments. But, then they get busy with demos, and call backs, and has no time to prospect in week #2. The result? A high-income week, followed by a low-income week, followed by a high-income week, and so on. This causes an up and down cycle of income and success that leads to frustration and low income.
The company generating a constant stream of fresh new restaurant openings leads for the sales team can cure this. Also, companies that generate new leads have less seasonal downs. For example, many salespeople feel no one will open a new restaurant in December because of the holidays. Lead generation programs usually do better at smoothing out the seasonal lumps in business.
What About Call-Ins?
Many long-established restaurant vendors rely on call-ins to provide sales for their staff. However, this makes the company far less profitable than it deserves to be. Call-ins are easy closes and tend to make your sales staff fat and apathetic at the expense of your profit. Many companies that have a lot of call-in business are understaffed. This is caused by pressure from the current sales staff to keep the number of sales representatives low so they can make their living just off the call-ins.
It Seems Expensive
Like all forms of advertising, it either works or it doesn't. One way to keep the cost down is to "charge" your sales staff for the leads. This spreads out the cost between both parties who benefit. This is often done by paying a higher commission on closes where the salesperson generated the lead rather than if the company provided the lead. (Most companies normally include Call-ins in the leads considered generated by the company.) This makes a huge difference in cost. For example, if you paid five percent less commission on company-generated leads, this would result in commission savings to offset the cost of the leads. This not only spreads the costs, but it encourages salespeople to generate some of their own leads and increases sales.
The number of closes per month per sales representative is a number that is critical to your profitability. If your company had five reps closing 12 new restaurant openings per month, that's 60 closes per month! If you want the highest efficiency you can have, consider providing some of the leads for your sales team.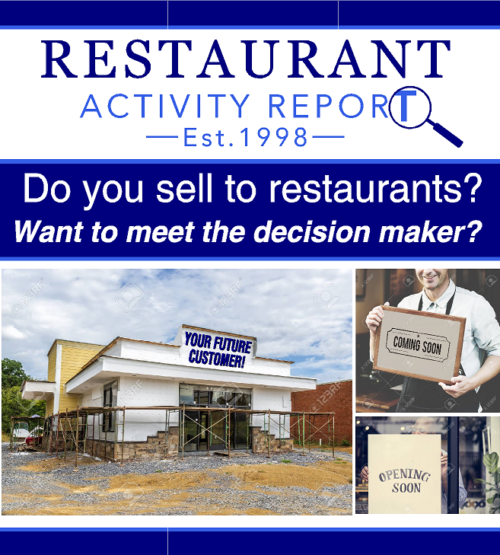 About The Author
Rick Wilcox is CEO of Restaurant Activity Report which provides data designed exclusively for the Restaurant industry. Since 1998, The Restaurant Activity Report has been the industry leader in providing research data about new restaurants opening up and changing hands throughout the United States. For a free demonstration and sample, contact them at (866) 610-5765. See their website at RestaurantActivityReport.com.